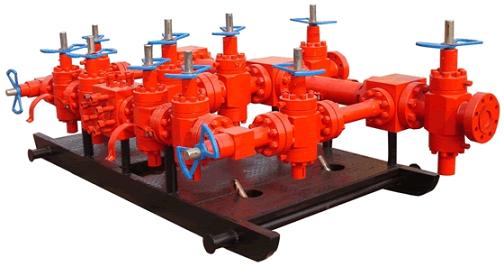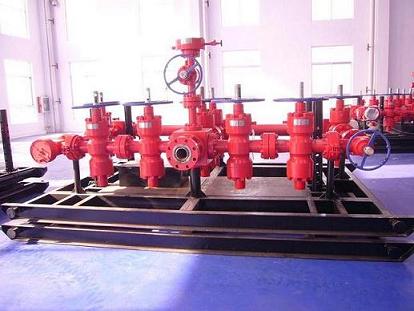 1, use
Throttle manifold is to control the kick, the implementation of necessary equipment for oil and gas Wells pressure control technology. In bop closed condition, using the throttle valve opening and closing, control a certain casing pressure for bottom hole pressure is always slightly greater than the formation pressure, avoid further formation fluid into the well. In addition when implementing shut-in, available throttle manifold pressure to achieve soft shut-in. When the borehole pressure rises to a certain limit, wellhead choke to through it.
2, the structure
Throttle manifold by a throttle valve, gate valve, pipe, pipe fittings and pressure gauge, etc, see above parts and the throttle valve and gate valve.
3,The throttle manifold
When the pressure in well, through the throttle on the manifold throttle valve (manual adjustable, hydraulic type and fixed type three) to release the borehole fluid opened and closed to control the casing pressure. Casing pressure can be put directly by gate valves are high.
4, the throttle manifold specifications
I company throttle manifold pressure level is divided into five, namely, 14 Mpa, 21 Mpa, 35 Mpa and 70 Mpa and 105 Mpa. Can also be designed according to customer requirements.
5, use requirement
(1) the throttle manifold all parts working pressure should be combined with the blowout preventer used working pressure to match;
(2) the throttle manifold shall be installed in the operator accessible places, when installation, must test, seal test pressure shall be equal to the rated working pressure;
(3) the pipeline should be as flat as possible true, pipe bend should use 120 - degree just bent pipe casting. Line should be large enough diameter;
(4) must be put working pressure gauge;
(5) the winter construction, energy-saving should be under the condition of low temperature performance of the work.


Type

Working pressure
(Mpa) (psi)

Nominal diameter
(mm) (inch)

Bypass diameter
(mm) (inch)

YJG140

140Mpa (20000psi)

103(4-1/16),78(3-1/16),
65(2-9/16),52(2-1/6)

103(4-1/16),78(3-1/16),
65(2-9/16),52(2-1/6)

YJG105

105Mpa (15000psi)

103(4-1/16),78(3-1/16),
65(2-9/16),52(2-1/6)

103(4-1/16),78(3-1/16),
65(2-9/16),52(2-1/6)

YJG70CYJG70E

70Mpa (10000psi)

103(4-1/16),78(3-1/16),
65(2-9/16),52(2-1/6)

103(4-1/16),78(3-1/16),
65(2-9/16),52(2-1/6)

(Y)JG35

35Mpa (5000psi)

103(4-1/16),78(3-1/16),
65(2-9/16),52(2-1/6)

103(4-1/16),78(3-1/16),
65(2-9/16),52(2-1/6)

(Y)JG21

21Mpa (3000psi)

103(4-1/16),78(3-1/16),
65(2-9/16),52(2-1/6)

103(4-1/16),78(3-1/16),
65(2-9/16),52(2-1/6)