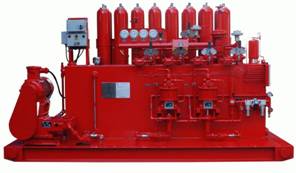 BOP Control System details
A special equipment which is used to control BOP, hydraulic choke and kill system, and indispensable equipment for blowout prevention during drilling or well servicing in petroleum and natural gas industry. The BOP Control Systems are all strictly designed, manufactured and inspected in accordance with National Standard SY/T5053.2-2001 & API Spec 16D, and it is allowed to put on an API. Label.
More than 20 types of BOP Control Systems, whose controlled objects are from 2 to 8, being suit for any difficult climate atmosphere or bad weather conditions in inland sand areas or high plateau at home and abroad..
ITEM

TYPE

NUMBER OF OBJECT CONTROLLED

ACCUMULATOR SETS

VOLUME OF OIL BOX

FLOW VOLUME OF PUMP

MOTOR POWER

WORKING PRESSURE

ANNULAR

FLASHBOARD

CHOKE

SPARE

TOTAL VOLUME

PERMITTED VOLUME

ALIGNMENT

ELETRONIC PUMP

PNEUMATIC PUMP

HANDLED PUMP

1

FK75-2

1

1

25×3

37.5

rear

170

12

11

5.5

21

2

FK150-2

1

1

25×6

75

rear

250

24

11

11

21

3

FK125-2

1

1

25×5

62.5

rear

320

18

11

7.5

21

4

FK125-3

1

1

1

25×5

62.5

rear

320

18

11

7.5

21

5

FK240-3

1

1

1

40×6

120

rear

440

24

11

11

21
| | | | | | | | | | | | | | | |
| --- | --- | --- | --- | --- | --- | --- | --- | --- | --- | --- | --- | --- | --- | --- |
| 6 | FKQ320-3 | 1 | 2 | | | 40×8 | 160 | rear | 630 | 24 | 11×1 | | 11 | 21 |
| 7 | FKQ320-4 | 1 | 2 | | 1 | 40×8 | 160 | rear | 650 | 24 | 11×1 | | 11 | 21 |
| 8 | FKQ320-4H | 1 | 2 | | 1 | 40×8 | 160 | rear | 650 | 24 | 11×1 | | 11 | 21 |
| 9 | FKQ480-5 | 1 | 2 | 1 | 1 | 40×12 | 240 | rear | 890 | 32 | 11×2 | | 15 | 21 |
| 10 | FKQ480-5A | 1 | 2 | 1 | 1 | 40×12 | 240 | rear | 890 | 32 | 11×2 | | 15 | 21 |
| 11 | FKQ640-6 | 1 | 3 | 1 | 1 | 40×16 | 320 | rear | 1310 | 42 | 11×2 | | 18.5 | 21 |
| 12 | FKQ640-6A | 1 | 3 | 1 | 1 | 40×16 | 320 | side | 1310 | 42 | 11×2 | | 18.5 | 21 |
| 13 | FKQ720-7 | 1 | 3 | 2 | 1 | 40×18 | 360 | rear | 1510 | 42 | 11×2 | | 18.5 | 21 |
| 14 | FKQ720-7A | 1 | 3 | 2 | 1 | 40×18 | 360 | side | 1510 | 42 | 11×2 | | 18.5 | 21 |
| 15 | FKQ800-6 | 1 | 3 | 1 | 1 | 40×20 | 400 | rear | 1510 | 42 | 11×3 | | 18.5 | 21 |
| 16 | FKQ800-6A | 1 | 3 | 1 | 1 | 40×20 | 400 | side | 1510 | 42 | 11×3 | | 18.5 | 21 |
| | | | | | | | | | | | | | | |
| --- | --- | --- | --- | --- | --- | --- | --- | --- | --- | --- | --- | --- | --- | --- |
| 17 | FKQ800-7 | 1 | 3 | 2 | 1 | 40×20 | 400 | rear | 1510 | 42 | 11×3 | | 18.5 | 21 |
| 18 | FKQ800-7A | 1 | 3 | 2 | 1 | 40×20 | 400 | side | 1510 | 42 | 11×3 | | 18.5 | 21 |
| 19 | FKQ800-8 | 1 | 3 | 2 | 2 | 40×20 | 400 | rear | 1730 | 42 | 11×3 | | 18.5 | 21 |
| 20 | FKQ800-8A | 1 | 3 | 2 | 2 | 40×20 | 400 | side | 1730 | 42 | 11×3 | | 18.5 | 21 |
| 21 | FK50-2C | | 1 | 1 | | 25×2 | 25 | rear | 160 | 3.5 | | 11 | 1.1 | 21 |
| 22 | FKQ480-6 | 1 | 2 | 1 | 2 | 40×12 | 240 | side | 920 | 32 | 11×2 | | 15 | 21 |
| 23 | FKQ560-6 | 1 | 3 | 1 | 1 | 40×14 | 280 | rear | 1050 | 42 | 11×2 | | 18.5 | 21 |
| 24 | FKQ560-6A | 1 | 3 | 1 | 1 | 40×14 | 280 | side | 1050 | 42 | 11×2 | | 18.5 | 21 |
| 25 | FKQ640-7 | 1 | 3 | 2 | 1 | 40×16 | 320 | rear | 1510 | 42 | 11×2 | | 18.5 | 21 |
| 26 | FKQ640-7A | 1 | 3 | 2 | 1 | 40×16 | 320 | side | 1510 | 42 | 11×2 | | 18.5 | 21 |