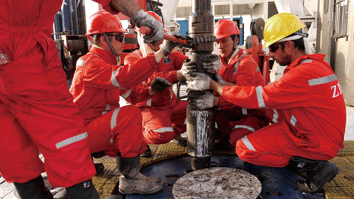 Our company, employs 40 drilling crews, which have 6 sets of (1500-2000HP) drilling rigs with drilling depth from 4000m to 7000m, 2 sets of cementing trucks, 2 sets of mud logging units and 3 sets of wireless while-drilling devices, etc. The annual accumulated drilling depth is above 800,000m.
Skilled crew members are capable of drilling vertical, horizontal, directional, cluster, and other special purpose wells for oil and gas, water, geothermal and coal bed methane exploration, as well as performing negative-pressure drilling in complex conditions. So far we has drilled more than 1,700 various wells.
In 2012, there are 6 sets of drilling rigs operated actually, 26 wells completed and the drilling depth is 152000m.
Accomplishing many new drilling records and satisfying performances, We enjoys a high reputation in the industry for its drilling crews and expertise.